Performed by Nan Colton
Wednesday, April 10 at 6:30pm
Mina Miller was the daughter of an inventor, wife of world-renowned inventor Thomas Edison, and mother of inventors.
Mina Miller Edison became a self-described "home executive." She carved her own niche in the world and proved to be a remarkable woman, quietly distinguished in her own right. Join us as we salute this unforgettable personality.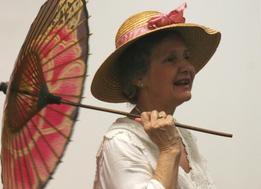 Nan Colton has performed and lectured on stages throughout the United States, Great Britain, and South Africa. She brings to life passionate, live portraits of remarkable women and their unforgettable tales.