February is American Heart Month!
Learn more about heart-healthy diets, exercise and more with the Gale Health and Wellness Database.
About Gale Health and Wellness:
Search for information on health, medication, and wellness topics from a variety of sources, including magazines, journals, newspapers, pamphlets, and reference materials.
Many articles are available in full-text.
Please note this information is not a tool for self-diagnosis or a substitute for professional care. This database is part of the Florida Electronic Library.
For home access: enter your library card number.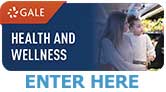 Learn how to use it in this video: