Join our crafting fun at the Library – all from 6:30 to 8:30 pm
2nd Mondays: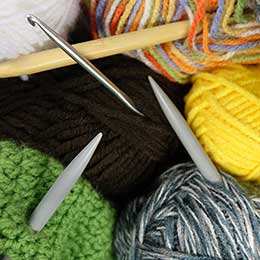 Needlecrafters meet to knit, crochet, embroider, quilt – and share ideas and techniques. Beginners are welcome. Come, learn a new skill.
4th Wednesdays:
CrafterSpace – Crafters of all kinds come together to knit, bead, color, crochet, paint, scrapbook, etc. Some supplies are on hand to help you get started.
Bi-Monthly:
DIY Craft Projects are events sponsored by the library. Classes include all supplies and instruction. Watch the library calendar for the next date.