Tarpon Springs Public Library participates in the Career Online High School (COHS) program. This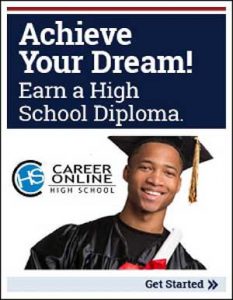 program offers adults the opportunity to earn an accredited high school diploma and career certificate in one of eight high-demand career fields, all online.
There are a limited number of scholarships to qualified students who are looking to advance their careers, prepare for workforce entry, or continue their education.
To be considered for enrollment, applicants must successfully complete the following steps:
The prerequisite course
An in-person interview at the library
Applicants must be 19 years or older, be a Pinellas County resident and have a PPLC library card in good standing or apply for a library card.
Once enrolled, COHS pairs each student with an online academic coach who provides the student with an individual career path, offers ongoing guidance, evaluates performance and connects the student with resources needed to master the courses. A student can complete the program in as little as five months but is given up to 18 months if needed. Students are expected to spend 8 to 10 hours per week on COHS.
Classes
The core classes consist of the following subjects: English, Math, Social Studies, and Science.
In addition to earning a high school diploma, students will earn a career certificate in one of these fields:
Certified Protection Officer
Child Care & Education
Commercial Driving
Food and Hospitality
General Career Preparation
Homeland Security
Hospitality and Leisure
Office Management
Retail Customer Service
Read about the different career certificates HERE.
The Application Process
Step 1 – Self Assessment:
The first step is to take the Self-Assessment to determine if this online high school program will meet your educational and career goals. The self-assessment can be completed in just a few minutes by answering a few questions. A small essay (150 words or less) is also part of the assessment. The library will contact you within five days of the completion of your self-assessment.
Step 2 – Prerequisite Course:
The library will review your self-assessment to determine if you meet the basic requirements for the program and are ready to enroll in the prerequisite career course, which must be completed in two weeks with a score of 70% or higher.
Step 3 – The Interview:
Once you have successfully completed your prerequisite course, the library will contact you within five days to schedule an interview to discuss your application for a scholarship award.
Step 4 – The Scholarship:
After your interview, the library will contact you about the scholarship award. If accepted into the program, you will gain access to the online classroom to begin your coursework.

Frequently Asked Questions
The Career Online High School project is brought to you by the State of Florida and is administered by Smart Horizons and Gale Cengage Learning.
Save
Save
Save
Save
Save
Save
Save
Save
Save
Save
Save
Save
Save
Save
Save
Save
Save
Save